Welcome to the Hispanic Chamber of Commerce
of Wisconsin
HCCW Advocates and promotes the growth and business development of the Hispanic microenterprise and small-to-midsized enterprise and corporate partners through new generation economic, academic and workforce leadership solutions.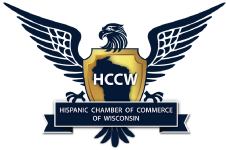 We offer a wide range of services helping to connect and educate.
WHY THE HCCW?
REASON ONE
The nation's Hispanic buying power has risen by $ Billions. Wisconsin has one of the largest markets in the nation, with over 70 billion in Hispanic American spending.
REASON TWO
People seek out the HCCW because of our ability to effectively address the cultural needs and capture the interests of our diverse population throughout Wisconsin and the United States.
REASON THREE
Creating opportunities for members has been and continues to be our number one priority. It is our goal to ensure our member businesses and opartners bring value to the marketplace, remain competitive and help to prepare future generations.
WORLD CLASS PROGRAMS AND SERVICES